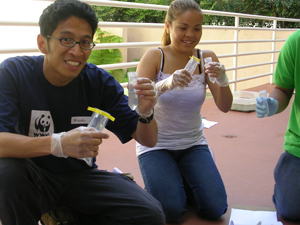 Our region is in need of greater coordination and a more systematic approach to truly foster the creation of self-sustaining citizen-based efforts with the capacity to contribute meaningful information that will help address our region's water quality challenges. The Common Ground project team encourages citizens to volunteer to monitor San Diego Bay 's watersheds in order to participate in a hands-on approach to assess their local water quality.
San Diego Coastkeeper, a project partner of Common Ground, conducts quarterly monitoring events in the San Diego Bay watershed. To find out more information on how to sign up to become a water quality monitoring volunteer, please visit the Coastkeeper Web site at
www.sdcoastkeeper.org
.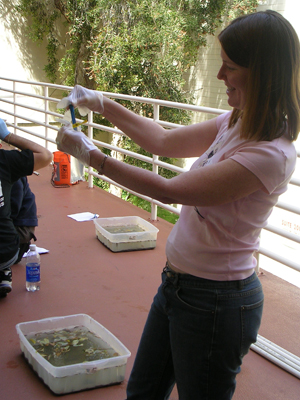 To become a Water Quality Monitoring volunteer, you will undergo a brief training course. The training course introduces volunteers to water quality terminology and testing equipment. The training also provides detailed information on water quality parameters, proper testing procedures, and testing safety.
The objectives of our Water Quality Monitoring program for the Common Ground project are to:
• Provide a long-term assessments of water quality in the San Diego Bay watershed
• Support local efforts to maintain or improve water quality
• Determine the status and trends of water quality
• Estimate nutrient loads from selected streams and drainage ditches in the San Diego Bay watershed




Please click on the Coastkeeper logo above
to watch a video about the history of San Diego Coastkeeper.

Please click here if you want to download our Water Quality Monitoring training materials

Please click here if you want to view the Quality Assurance Project Plan (QAPP) for the Common Ground Project